Kiss 2011 goodbye for good, and leave your belly bulge with it
You made that new year's resolution to get in shape, and now it's time to actually–gasp–do it. Your Habitat Corporate Site location more than likely has a fitness center on site, but getting out there with the locals can teach you a sweaty thing or two beyond the treadmill. Try out swinging on monkey bars, stretching like a ballerina or working a feather boa. The new year is the time for new things. And a new plan for that holiday-induced gut.
If You're Staying at The Chicagoan:
Say what you will about the difficulty yoga, but it's hard to argue with a 90-minute workout in a 105-degree room. If you're staying at The Chicagoan, hit up Bikram Yoga Burr Ridge (145 Tower Drive, Burr Ridge). Bikram practices the type of yoga that warms the body to enable deeper stretches for max flexibility, strength and balance. The routine consists of 26 postures and two breathing patterns. The "First Timers" special hooks you up with 30 days of sweat for less than $50.
How to Get There: Hop on the 151 bus at Michigan and Superior toward Union Station. Get off at Canal and Jackson and walk to Union Station. Take the BNSF Metra toward Aurora and get off at Hinsdale. Take an 8-minute cab ride from there. Commute time: 1 hour 10 minutes
If You're Staying at AMLI 900:
Who knew playing like a kid at the park could get you ripped? If you're staying at AMLI 900, try Monkey Bar Gym (2255 S. Michigan Ave). Inspired by kids playing on a jungle gym, Monkey Bar Gym is the anti-machines, anti-weights, anti-boredom gym. This South Loop spot is riddled with ropes, ladders, monkey bars and other unconventional bodyweight-only fitness toys. Try the 60-Day Challenge: Average participants lost 17 pounds of fat and gained 5.5 pounds of muscle.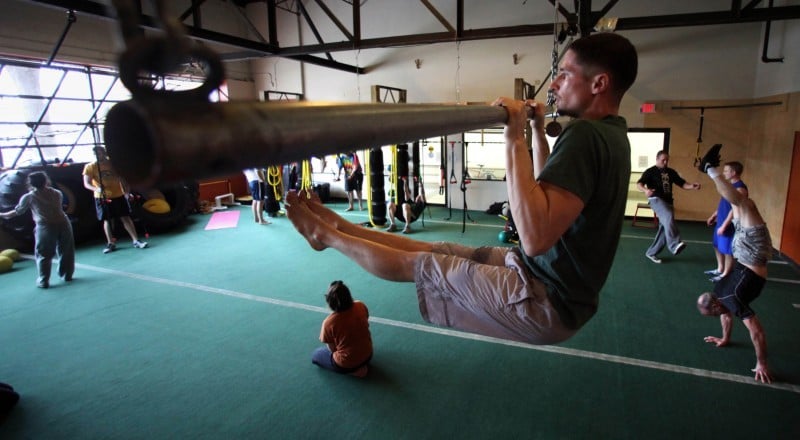 How to Get There: Get on the Red Line el subway at Chicago headed toward 95th. Get off at Cermak-Chinatown. Commute time: 25 minutes
If You're Staying at Elm Creek Apartments
You've probably noticed Chicago's always-occupied bike lanes. We're serious about cycling. If you're staying at Elm Creek Apartments, try out the stationary version at Go Cycle Studio (501 W. North Ave.). The classes range from 45- to 70-minutes of leg-burning riding. Many include some additional weightlifting or even yoga, all they all burn upwards of 500 calories each. Each class starts with a how-to for the newbies, so don't fret about the pro-like locals. A single class is just $7; a lot cheaper than buying your own road-ready bike.
How to Get There: Take the UP-W train from the Elmhurst Metra station. Get off at the Oak Park Metra and get on the Harlem Green Line subway stop headed toward Cottage Grove. Get off at Clark and Lake and hop on the Brown Line El toward Kimball. Get off at Sedgwick. Commute time: 1 hour 10 minutes
If You're Staying at The Grand Reserve
Your smelly gym shoes and sweat-stained t-shirts have you convinced working out is less than sexy. If you're staying at The Grand Reserve, the ladies at Tease Dance and Fitness (1831 Wehrli Road, Naperville) want to prove you wrong. Here, you'll use a feather boa and pole to slim down rather than bland elliptical time. This toning, strengthening workout will do as much for your confidence as it will for your abs. Try an intro to burlesque class for $40, because why not?
How to Get There: Take a cab east on Aurora Ave. then south down S. Washington St. Head east on W. 75th St. then south down Wehrli Road. Commute time: 15 minutes
No, a treadmill isn't the most appealing sight after a slight sugar binge at the local bakery. But for every great cupcake shop in the Chicagoland, there's an equally tempting, unique workout waiting to undo the frosting damage. Who knows, maybe you'll start craving yoga just as much as frozen yogurt. New year's resolution? Sounds more like a new year's hobby.